Peach Column Guardrail Welded Wire Mesh Fencing Test Installation
Installation Test of Wire Mesh Fencing
There is a test of the following products, wire mesh fence, 3d curved type.The fence panel is welded by steel wire, and with hole spacing, wire diameter is 4.5mm, hole mesh spacing is 50*200mm, which is mostly choiced for all customers, and height of the 3d fence is 7′ high, length of the fence is 3m long.
There are 4 curved line on the fence, to strong the fence and makes it looks more beautiful.
On the bottom of the post, in which is welded with plate, the plate will be connected with the ground by bolts, which makes the fence easy to install.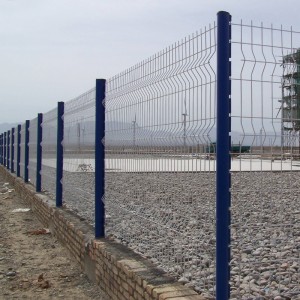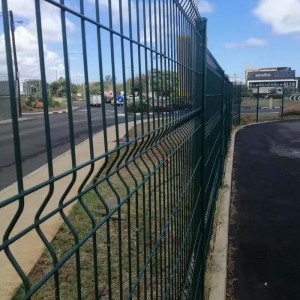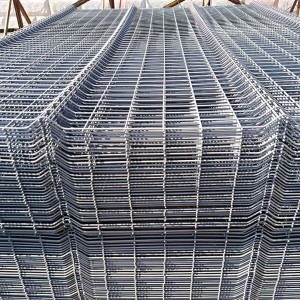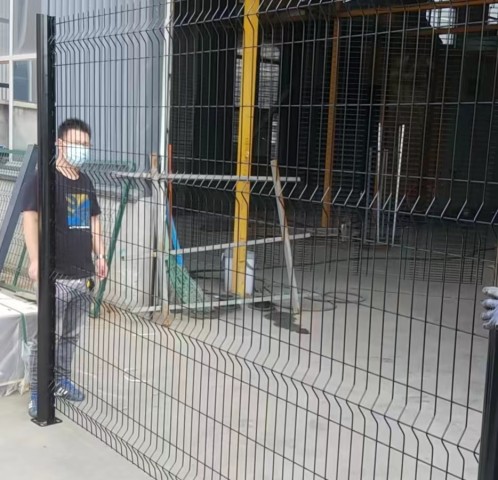 Generally, the thickness of the peach-shaped column is 1-1.2mm, which is formed by cold pressing and cold bending by machine. The outer side of the cylinder is elliptical, and the inner two plates are respectively bent outward to form a U shape after being connected, which is the hook part. In order to facilitate the connection between the peach-shaped column and the mesh, the inner side of the column is uniformly arranged along the length of the column according to the mesh size of the mesh, and N groups of hooking notches are distributed on both sides of the column. The straight sides of the column are tangent, which can effectively prevent them from being pryed open and improve the anti-prying performance of the guardrail.
Triangular bending guardrail:
Appropriate bending creates the unique aesthetic effect of this product, and the surface is dipped in various colors, such as yellow, green, red, and the different colors of the column and the mesh are more pleasing to the eye. Most of these products use uprights with chassis, and the installation only needs to make expansion bolts, which is very fast.
1. Excellent performance: The product uses high-quality raw materials, and has undergone special surface treatment, with extremely high corrosion resistance.
2. Easy installation: no special accessories are required for product installation, and the push-type installation method is adopted, which is easy to hold and hold, simple and fast, and reduces costs.
3. Surface treatment: galvanized, sprayed, dipped, etc.
4. The installation method of the fence can be selected: (optional) directly buried on the low wall or on the concrete floor to install the safety accessories through the flange (optional) According to the safety protection requirements of the site, the fence can be installed with bends head, barbed wire, tiger thorn.
Original Source: https://www.bar-grating.com/news/peach-column-guardrail-welded-wire-mesh-fencing-test-installation/
Media Contact
Company Name: Hebei Weijia Metal Mesh Co., Ltd
Email: Send Email
Phone: 0086-15530184730
Country: China
Website: https://www.bar-grating.com/