STR8UPDRIVEN Announces New App Launch this June That Guarantee Unique Experience for Car Rally and Luxury Car Enthusiasts
Innovative automobile application developer STR8UPDRIVEN wants to bring car enthusiast and luxury car lovers together with their new app that comes with features like GPS tracker and opportunity for networking and business connections
Stanton, California – STR8UPDRIVEN is proud to announce the launch of their new app coming out this June, 2021, for car rally and luxury car enthusiasts. The app comes with unique and innovative features that help everyone taking part in a rally have the best fun and experience, while they enjoy a wonderful time with their friends and family.
With the introduction of the STR8UPDRIVEN app, these car rally events are already becoming one of the top places to be in California, Los Angeles, and Orange County. The app has a GPS that tracks everyone on the race so their friends can know where they are. Users can also rent luxury cars and view everyone else's turn-by-turn direction and movement.
"Bringing new people together is what we're excited about. With the app, the possibilities are endless," said Tony Nino, co-creator of STR8UPDRIVEN. "The bigger the circle grows with STR8UPDRIVEN, the more outreach it has, and to the different states and countries is the camaraderie of working together is going to take the businesses that all the members have to a new level, I hope."
STR8UPDRIVEN is the brainchild of Tony Nino and Victor Balikjan. They are both lovers of luxury cars and car races but couldn't afford to own one. While visiting car rallies and events, they noticed they and others are being left out of the fun. So, they decided to create an app that will disrupt the automotive industry and give everyone a chance to participate.
The app is a game-changer already because of the amazing features that users will get from using it. STR8UPDRIVEN offers a platform where car enthusiasts can gather together to share their experience with luxury cars and car races. Users also can connect and network for business opportunities and other purposes based on their interests.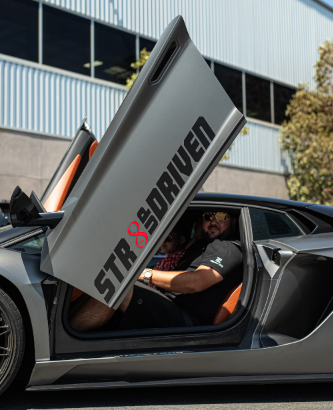 Tony Nino and Victor Balikjan want to bring people together and help them achieve a common goal of unity, community spirit, and love in a fun and conducive environment. The potential of their STR8UPDRIVEN app is massive and it's only a matter of time before other people worldwide see the amazing features and begin to create a global network of users that will help grow the automobile industry.
For more information, please visit https://str8driven.com/.
About STR8UPDRIVEN
STR8UPDRIVEN is a platform that connects lovers of luxury cars and car rallies for fun, entertainment, and enjoyment. They have an app that features GPS to track everyone's car in the race. The company prides itself in bringing people together for networking and business promotions and opportunities.
Social Media Pages
App: Str8updriven
IG: @str8updriven
Media Contact
Company Name: STR8UPDRIVEN
Contact Person: Danielle Paulo
Email: Send Email
Phone: 714-808-2416
Address:8250 W Cerritos Ave
City: Stanton
State: CA
Country: United States
Website: https://str8driven.com/