Beat Stress with Backyard Parties & Bounce Houses, the Coolest Old Way to Keep Kids Healthy and Happy
Sumter, SC – May 29, 2020 – With children held up behind closed walls, there is an urgent need for some good old entertainment. A backyard party is the best way to loosen up, soak some sunshine, and have a jolly good time playing around a bounce house. Bounce House Rentals Sumter SC from Laugh 'n Leap Amusements can be easily rented with reasonable prices, set up and professional assistants.
Think of pre-Covid times and how life was, and one is sure to remember house and garden parties and the fun everyone had when a bounce house was installed. For churches too, social gatherings came alive with rented water slides and inflatables. Laugh n Leap will bring back the old times for everyone with their inflatables.
Bounce Houses Sumter SC are also available for businesses and companies to give their employees a break from the stress, and announce to the world that their services are really cool. For birthday parties too, a bounce house with a slide combo means hours of unending fun for every kid.
"Children are stuck inside homes during the pandemic, and the summer vacation plans too are gone. So what better way to have fun than spend a whole afternoon playing around water slides and bounce houses. Our staff is friendly, knowledgeable and will set up everything for you," said Mary Grogg of Laugh n Leap Amusements.
For over ten years, Laugh n Leap Amusements has offered high quality bounce houses and water slides, inflatables, obstacle courses and other fun equipment with professional assistants at very reasonable rates. The team can be contacted for help with planning the activities and choice of equipment based on the space and location available. The staff will also promptly share safety guidelines and procedures for a worry-free time spent having fun.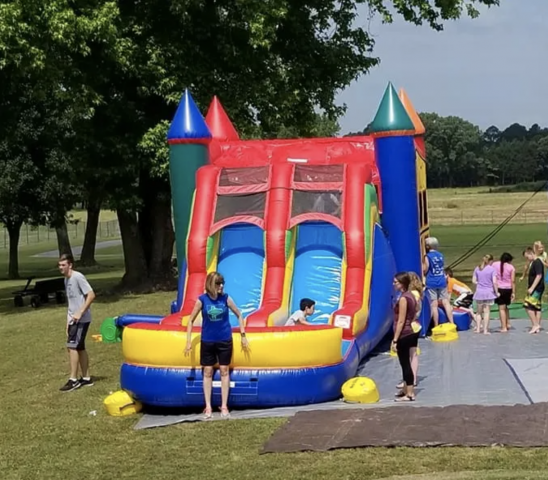 About
Laugh n Leap is Sumter, South Carolina's premier party rental company specializing in bounce house rentals, water slide rentals, obstacle course rentals, event game rentals, as well as tables, tents, and chair rentals. The rental company enjoys popularity with local residents, businesses, churches, and schools in Sumter, SC. We provide commercial grade bounce house rentals for events in Columbia, Lexington, Chapin, Newberry, Orangeburg, Sumter, and all areas of South Carolina.
For more information, please visit: https://www.laughnleap.com
Media Contact
Company Name: Laugh n Leap – Sumter Bounce House Rentals & Water Slides
Contact Person: Mary Grogg
Email: Send Email
Phone: 803-720-5690
Address:628 W Liberty St.
City: Sumter
State: SC 29150
Country: United States
Website: https://www.laughnleap.com/