Harkness Screens Introducing: Laurent Espitalier and Laura Yates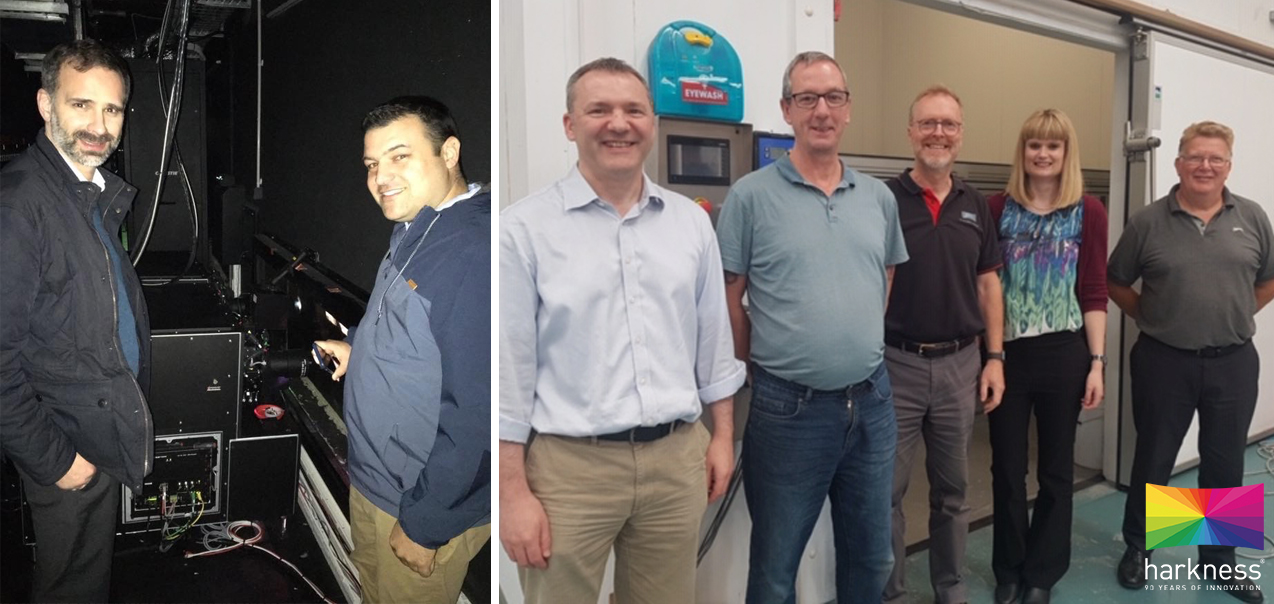 In the Autumn of 2019, Harkness Screens recruited two senior research and development scientists. Laurent Espitalier and Laura Yates arrived at Harkness Screens with a wealth of experience in both material science and industrial chemistry.
Now just over half a year into their roles, they spoke to Harkness.co about how they have settled into life at Harkness Screens and the efforts that they have put into developing Personal Protective Equipment (PPE) during this global pandemic.
Chartered Chemist (CChem) is a professional qualification awarded by the Royal Society of Chemistry which Yates is a recipient of. CChem recognises the experienced chemical scientist who has demonstrated an in-depth knowledge of chemistry, significant personal achievements based upon chemistry, professionalism in the workplace and a commitment to professional development.
"Working for Harkness Screens so far has been extremely rewarding in these first few months," Laura Yates said, "I have been brought in by Harkness to focus on the R&D side and we're really getting into the science and theory of things.
"We're working out why things are working and why they don't, so that we can tell customers everything they need to know. So, it's delving into the theory of things that is really my role and trying to drive that forward."
Studying in Paris, Espitalier is one in a long line of scientists in his family. An expert in material science, Espitalier is also a guest lecturer at Manchester University and Cranfield University, where he educates many of the country's brightest minds.
"For the last 15 to 20 years, I have been looking at various surface renderings, coatings and in my career I have been quite lucky to do lots of R&D with world leaders in their field," Espitalier said, "I have also worked with many UK universities, many world experts in the aerospace sector, which has given me lots of opportunities to learn.
"Learning about the design process, how to develop science and how to push science to new boundaries. I have organised this with an industrial background and over this journey I have met lots of fantastic people and I have even done an MBA not far from where I live, at Lord Ashcroft International Business School in Cambridge, to give me a broader understanding of research science at an industrial level."
Both Yates and Espitalier were instrumental in the development of Harkness Protect products that have been made in the wake of Covid-19. Developing PVC aprons, barrier screens, medical curtains and face visors for those on the frontline, both are enjoying their contributions to Harkness' efforts.
"A key thing that attracted me to Harkness was their innovative thinking over the years," Espitalier said, "As a scientist, being given the freedom to try new things is extremely enjoyable. Being asked to create PPE for those who need it is no different and I am extremely proud to be helping Harkness with their efforts."
"It certainly wasn't what I was anticipating my first year at Harkness to be like, but it has been fantastic to be at such a proactive organisation at this time," Yates said, "Added to this is the positive feedback that we have received from customers in India about the line of products we developed and, like Laurent, it is a great point of pride to be helping those who need it at this time."
To learn more about how Harkness can help you email [email protected].
Media Contact
Company Name: Harkness Screens
Contact Person: Joe Harvey
Email: Send Email
Phone: +44 (0)1438 725 200
Address:Unit A, Norton Road
City: Stevenage
State: Hertfordshire
Country: United Kingdom
Website: www.harkness.co