Listen to the unofficial funky pop figure podcast "Talk'n Pops" with Mike and Josh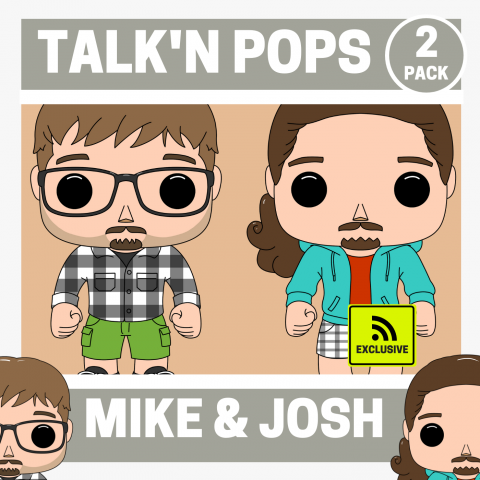 Missed the important news over the week? Worry no more, Mike and Josh are here with their podcast "Talk'n Pop", who will help you catch up with short but sweet, News, Exclusives, Contests, Giveaways, Unboxing and Interviews.
Started on 1 May 2016 and hosted by Mike and Josh, "Talk'n Pop" has 208 total episodes as for now. This is a light podcast that is fun and relaxing to listen to. The chemistry between Mike and Josh is mind-blowing and is loved by the audience widely. They have an amazing connection with each other that can be felt all through the episode. Mike and Josh have the innate ability to turn any uptight and serious topic into a light and smooth one, which makes "Talk'n Pop" a great listen. The constant bantering and bickering between the two hosts is a treat to listen to.
"Imagine a podcast that can not only give you information on upcoming pop culture but give you all the aspects of emotions. Mike and Josh are the whole packages as they go over their weeks, discuss Funko Pop figures but also have more mood swings than a middle-aged woman. There is excitement, heated discussions on topics that are hard to ask like options of towels or preferences on cereal milk. This duo took a topic of talking about pop culture but has built a fun podcast that has a loyal live stream following and even more on the podcast listeners. These guys are great and should be one of the best in Funko pop podcasts", review by Russ, on the podcast "Talk'n Pop".
The latest episode of the podcast was aired on May 18, 2020, and is called "Cyberpunk 2077, Fortnight, Funko Shop, X-Men, and more. The episode before that is called the "4 Year Anniversary Show" and was aired on May 11, 2020, where the hosts have some fun memories to share about the podcast that had happened to complete 4 years of its existence. Other episodes include- "Funko Shop and more", Talk'n Pop with callers", "Drag Queen, Funko Shop, Migos, and More", and many others.
Mike and Josh are successfully bringing smiles on their listeners' faces with each episode they make; this is what makes their podcast all the more special.
Listen to the podcast "Talk'n' Pop" on this Link.
Media Contact
Company Name: Talk'n Pops
Contact Person: Mike Jobe
Email: Send Email
Country: United States
Website: talknpops.com