Stress-relieving Brighton soap and bath products launch on Kickstarter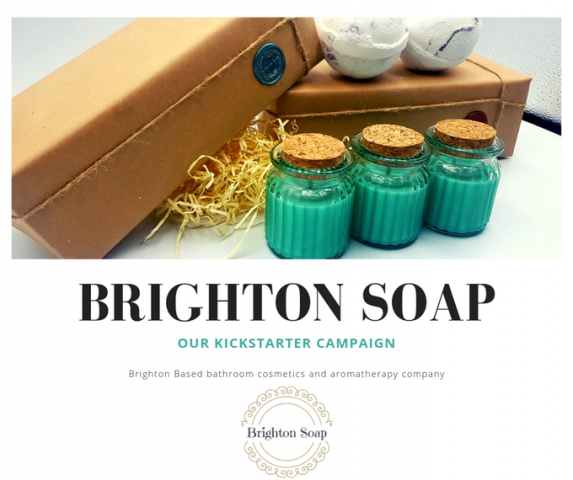 Brighton Soap is a small company from Sussex who has just launched on Kickstarter. Their main focus: promote relaxation and prevent stress. Brighton Soap offers a range of bath time essentials to enjoy as part of your relaxation tool kit.
Their enticing collection of Bath Bombs are infused with essential oils to make your body and mind feel great. With different scents designed for different moods, they dissolve delightfully in your bath releasing natural aromas and a soothing mix of colours. Also offered by Brighton Soap are the range of 'Chill Pills'. These mini fizzies come in a range of natural scents, fruity flavours and vibrant colours to look and smell great in your bathroom
Aromatherapy candles and Essential oils are also offered by Brighton Soap. Their varied selection of candles include scents like Honeysuckle, Lavender & Winterberry. Their range of natural Essential oils are picked based on their personal experiences of their benefits and include Dried Rosemary, Calming Chamomile and Ylang Ylang.
Brighton Soap's goal on Kickstarter is to raise £2000 by October 5th, 2019. This money will be used as part of their social media campaigns in order to drive awareness of their brand & their mission to try and combat stress and anxiety.
Brighton Soap was created as they know how it feels to suffer from anxiety and how important it is to take time for yourself; to pamper and indulge yourself in a relaxing bath when you need it. As well as their bath time products, Brighton Soap share their relaxation ideas and suggestions, from Spotify playlists, audiobooks, Netflix programs & Meditation apps.
Each of their products are individually wrapped, packaged and signed off with a Brighton Soap wax crest by hand. Backers can order the Brighton Soap Relaxation Tool Kit by contributing to their Kickstarter Campaign.
Media Contact
Company Name: Brighton Soap
Contact Person: Rosie
Email: Send Email
Phone: 07808855831
Country: United Kingdom
Website: Brightonsoap.co.uk