Livebearded.com Announces Its Partnership With Mossy Oak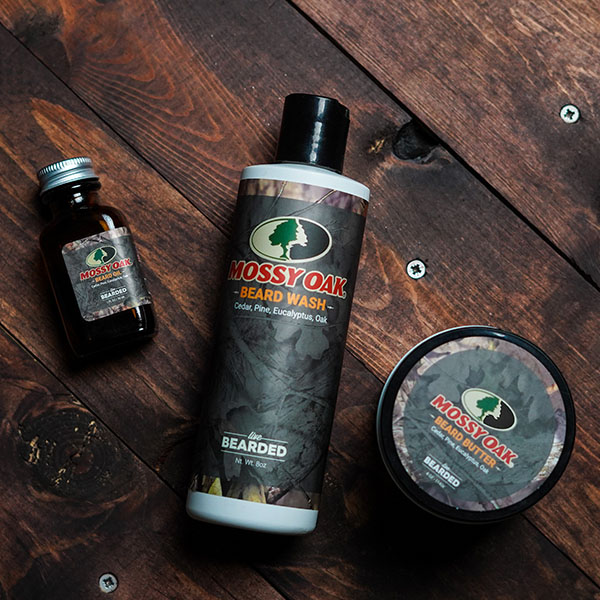 Livebearded.com has announced their partnership with Mossy Oak, one of the largest hunting, fishing, and outdoor companies in the world, offering a collection of men's beard-grooming products to beardsmen with a love for the outdoors.
Live Bearded is a premium beard grooming company with a mission to help beardsmen look, feel, and be their best by offering an all-natural line of beard oil, butter, and wash. Their simple, 3-step beard care routine consists of beard oil, butter, and wash that helps clean, condition, and style your beard promoting fuller, healthier growth.
The new Mossy Oak product line consists of Live Bearded's best-selling oil, butter, and wash with a blend of pine, cedar, eucalyptus, and oak to create a bold, earthy fragrance any outdoorsman would love.
Over the last 3 years, Live Bearded has built an incredible community with over one hundred thousand customers and more than ten thousand five-star reviews. The new Mossy Oak collection goes on sale Friday, September 13th.
The Partnership
The partnership supports Live Bearded's company vision — to help beardsmen look, feel, and be their best by partnering with a company that has a shared vision of success. Together, Live Bearded and Mossy Oak believe their partnership will help improve the grooming choices of bearded outdoorsman with this new beard grooming collection.
As Mossy Oak states: "Behind every product decorated in Mossy Oak is a team of dedicated professionals. We work together to create mutually beneficial marketing strategies from the grassroots."
About Live Bearded
Live Bearded is more than a brand, it is a community of men from all around the world boasting more than five hundred thousand passionate followers. Started in Jan 2016 by Anthony Mink and Spencer Bryce, their mission is to "Help beardsmen look, feel, and be their best!". From great grooming products to empowering content, they encourage their customers to do better every day as they strive to be the best they can be.
Live Bearded is truly a company built on the values of brotherhood as its co-founders Anthony and Spencer have been best friends for over thirteen years. In 2015-2016 they were discussing the idea of starting a company together and wanted that company to be focused on supporting men. With the beard grooming industry on the rise, Spencer suggested starting a mens grooming company as an excellent way to support guys.
What separates Live Bearded from everyone else is their customer first focus. As CEO Anthony Mink states, "Anyone can sell a product, what makes the difference is how you support your customers before, during, and after the sale. We are dedicated to creating an unreal customer experience for everyone that shops with us." To help achieve an "unreal customer experience" they offer free shipping and returns on all orders in the USA, a 365-day money-back guarantee, and a lifetime warranty on everything they sell.
What's Next
In addition to their Mossy Oak partnership, Live Bearded has announced several new products coming soon, including a winter seasonal fragrance going on sale Nov. 1st. This will be a limited edition holiday fragrance that is only available while supplies last.
To learn more about livebearded.com you can follow them on social media @livebearded and on their blog.
Media Contact
Company Name: Live Bearded, LLC
Contact Person: Anthony Mink
Email: Send Email
Phone: 877-579-3620
Address:7550 E Greenway Rd Suite B125
City: Scottsdale
State: AZ 85260
Country: United States
Website: www.livebearded.com